Turbo charging SR20De/E
This guide is a reflection of what ive learnt while carrying out my turbo conversion on a P11 Primera. Most of the main points will be covered, but as always, it is also necessary to seek professional advice.
Before you go ahead with such a project, you must consider the following things.
1. Can you afford it? This is an obvious point, but be prepared to part with the best part of £3,000.00 depending on how in-depth you go into it. There are so many extras, bits n bobs you can add on which will hit the pocket quite hard.
2. Can you afford to have the car off the road for a long period of time? Depending on how quick you can acquire parts, and to have the car tuned, be expected to have the car off road for between 2-6 months. There is no point rushing this type of project as mistakes can easily be made. It's advisable to have the use of a second car.
3. Can you spare plenty of time to do the conversion? A big part of saving cash comes if you decide to take on the task yourself. There are very little companies out there that have done this before, and they would charge you a small fortune to do it.
4. Have you done your homework? There is endless amount of information regarding SR20 Turbo conversions out there on the net. By researching into the project, you can foresee any problems you may encounter and avoid them. Good sources of info from the likes of:
http://www.automotiveforums.com/vbulletin/f201
but always remember to use the SEARCH function first, then ask questions.
5. Do you have the initiative to go out there and look for what you need? A lot of work has to be put into this, as this project is custom, therefore a lot of the parts will have to be either made up, or sourced from other vehicles. This sometimes takes a lot of brainpower, be creative and adapt.
6. Probably the most important thing of all, Will the Wife mind?? The answer is probably YES; as I cant see any woman not objecting to you spending all that money on a car.
If you can deal with the above points, then read on..............
Right, first off, there is 2 ways of doing this. The most obvious is a straight engine swap with a GTiR engine, and then there's Turbo charging your SR20DE. Both have good points and bad points. I will try to cover them all.
GTiR Swap
The original BHP of a GTiR engine is around 227BHP. This is about the limit as to what you can run on your car. Reason being is that in order for you to fit and run this engine, you will need to use the SR20 tranny. The tranny wasn't built to withstand such power and to be honest, after driving a P10 GTiR conversion, you wont need to mod a standard GTiR engine. However, depending on your driving style, you can up the power at your own risk. This is what you're going to need.
Best option is to acquire the full front end clip of a crashed rear end damaged GTiR, simple reason being is that you can see the layout of everything before you strip it out, and you know that the engine runs. Otherwise,
Full GTiR engine, no gearbox or flywheel required
If using GTiR top mount intercooler, then GTiR bonnet bulge or equivalent
Engine wiring harness
ECU & MAF sensor
Various sensor and accessories around the engine bays inner wings and bulk head.
Optional pipe work and front mounted intercooler.
Custom fabricated down pipe
Uprated SR20 Clutch
Price, between £1500 to £2500 easy!
The swap is basically straight forward, remove original engine, harness and ECU, then install new harness first before you install engine. Certain part of the original car will have to be wired back in such as ABS if you have it, gear selector switch and resolving the speedo issuse. You will also need to use your original flywheel and clutch assembly as the SR20 tranny wont fit over the GTiR set-up.
The stardard flywheel has 6 bolt holes in the centre which will need to be slightly enlarged. This can be easily drilled out by hand. This is the best time to have your clutch up rated to something like an ACT or Clutchnet unit listed for the SR20DE engine. As I haven't personally carried out this conversion, I can't offer that much advice, but there are a few on the forum who can.
Just bear in mind that a GTiR conversion may eat your gearbox especially if you drive quite hard. One option is to have the gears Shot Peened and Cryo Treated which will harden them and they will be good for up to 300BHP, but I still haven't found a company to do this. You can however strip your box and send the internals to somewhere like http://www.jgycustom.com who can do this treatment for you.
Ive found 2 companies which may be able to help with tranny problems. Firstly, theres http://www.par-engineering.com They can supply either a Syncromesh Gearset or a Dog Chage gearset (good for 600 BHP!!) Prices are from about £2k-3k Next we have Quaife. They can supply you with a 6 speed sequential straight cut box, which will require modified mounts and shafts, but at a unreachable amount of +£7,000.00 so its up to you.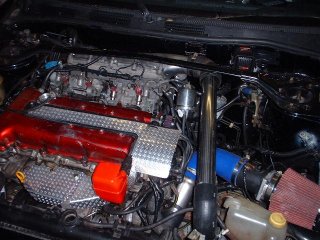 _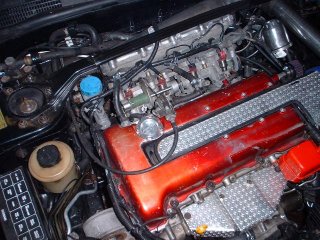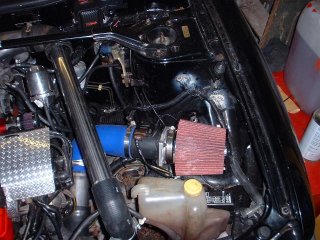 Turboing SR20DE
The original BHP will either be 130 BHP (2 ltr non GT) or 150 BHP (GT) at the flywheel. First you must think about what your target BHP is. Realistically, 220BHP is good. Now depending on how high you go, is to how much work is involved. If you want to make the car run reliably then you can use stock internals (9.5:1 or 10:1 depending on engine) and run a safe 7 psi. This will net you around 220-230 BHP. However, if you wanna run further more boost, then youll need to lower your compression and or strengthen the internals. Id also suggest running an intercooler. Higher boost means the compressed air is more aggitated thus at a higher temperature. The lower the charge temp the better.
There are several ways to lower compression, depending on what compression you want to run. You can skim the original pistons (not recommended), use a thicker head gasket such as the thickness available by HKS or use GTiR pistons. In each case, careful calculations must be made to ensure that the outcome is what is expected. A 2mm gasket will lower the compression by about 0.5 (to 9.5:1) Doubling up on gaskets can work but some mechanics don't advise this process, but the best and safest option is to fit GTiR pistons (8.5:1) as they were designed for a turbocharged car. Remember, it's far easier to up the boost rather than lower the compression in the future.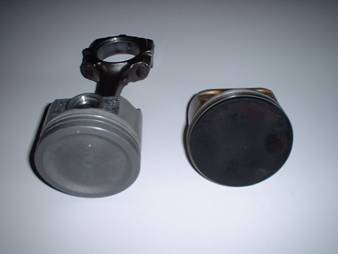 Left: GTiR Right: Stock SR20DE
Before buying new GTiR pistons, you must first determine which grade of piston you have in your existing enge. To do this, you must first remove the head, clean the block face and find what numbers are stamped by each cylinder bore. It will be either 1, 2, or 3. Use this number to correspond to the equivalent GTiR piston.
note: if using new pistons a certain period of running in time must be allowed using recommended running in oils to ensure that pistons are fully bedded in, otherwise premature failure can occur.
GTiR pistons and ring set from main dealer around £450.00 set of 4.
HKS gaskets from £170.00 various thickness
Now that you have the compression sorted, it time to move onto the hardware. Here is a short list of what you may need, and some, which you wont, know about till the time comes.
ACT or Clutchnet (from £250)
GTiR exhaust manifold (from £80 second hand)
T2 fitment turbo (GTiR T28 or T2/T? hybrid) prices vary
Custom Fabricated Down pipe (from £150)
Intercooler (from £200 if custom made)
5 psi actuator (from £40)
Boost gauge (from £40)
Bleed valve (from £15)
Fueling Upgrades
Cone air filter and MAF adaptor (from £100)
Various silicone elbows, straights, reducers and couplings
Braided Oil hose (from £30)
Stainless Steel tubing, mainly 2" diameter (from £40)
Various fitting for oil & water feed/return (from £30)
Various diameter of rubber hose (from £30)
Before you can move on any further, you must now consider engine and fuel management. As boost delivers more air into the mixture, more fuel must be added in
order for combustion to take place at the correct mixture. Here are a few possible upgrades.
Dastek Unichip.
This unit when professionally installed, can electronically adjust the fuel curve and timing in order to produce peak performance. It works in conjunction with all the existing engine sensor and then manipulates the signal before it reaches the stock ECU. It also has optional extras and sensors which will allow it to do more, for example, nitrous control, traction control, up to 4 extra injector control and boost sensor. This is a must in order to run turbo, there is nothing else which can compete within this price range. (from £370)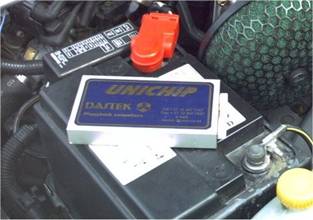 JWT ECU.
Jim Wolf Technology lead the way in Tuning Nissans. They cover just about every aspect of the cars and the ECU is no different. JWT offer a ECU ROM upgrade, where they take your stock ECU, and hardwire a daughter board into the circuitry. The board then houses a programable ROM chip which store the new Program for your ECU. The JWT ECU can alter every aspect of the running of the car, from fueling, timing and also include extras like water injection drivers and nitrous. The upgrade can also be programed to understand and drive bigger injectors and MAF sensor, which is necessary for big boost applications. Each ECU is programed specifically for your car, taking into account the exact specification of the car. Future reprograming is achieved by simple swapping of the ROM chip, rather than constant shipping of the full ECU. (around £450-£500 downtime 1-2 months)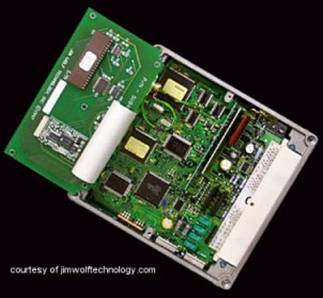 Injectors.
Depending on how much boost you run, you may need either extra injectors, or to replace all 4 of the original injectors. Boost around 7 psi may require custom installation of 370cc injectors and fuel rail, such as the ones found in a Nissan 200sx Turbo. When using 200sx injectors, you will also require ballast resistors. This is because the original primera injectors run at 12 ohms, and the 200s at 2 ohms. The ECU will not be able to control them at low impedance and could also cause the ECU to burn out.
For boost above 8 psi, a complete new system is recommended, such as 50lbs MSD injectors and fuel rail which will deliver more than enough boost to handle 1 bar boost. (from £150) Please note which type of injectors you have, either Side Feed or Top Feed. Along with injectors, you will need to consider the following.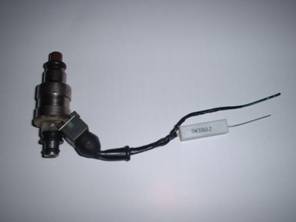 200sx 370cc Injector with Ballast Resistor
Fuel Pump.
As the demand for more fuel rises, more stress is put onto the original fuel pump, therefore it will need upgrading. There are 2 options, you may install an external inline fuel pump such as a Ford Cosworth unit, or you can replace the in tank unit. Direct replacement such as a Walbro 255 will cope no problems, or another alternative is to use a Nissan 300ZX Twin Turbo fuel pump, however, this does require some slight modifications to the housing in order for it to fit correctly. (from £100)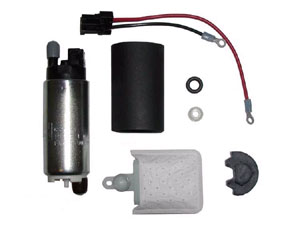 Fuel Pressure Regulator.
The stock pressure regulator was never designed for turbo applications, therefore, in order to maintain the required amount of pressure behind the injectors, a rising rate fuel pressure regulator must be fitted. This is located on the fuel rail and restricts the amount of fuel travelling back through the return line. A rising rate regulator basically restricts more fuel as boost is increased therefore more fuel will travel through the injectors rather back to the tank. It is recommend to use a 1 to1 ratio fuel regulator for turbo applications. Its also handy to have a fuel pressure gauge fitted. (from £100)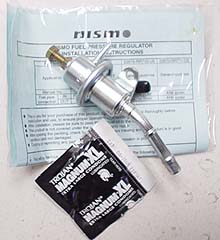 Now that the fuelling issue has been attended to, certain parts of the installation has to be planned in advance. Depending on which type of turbo unit you have opted for, it may require both oil and water feed/return in order for it to run. Oil feed can be gained via the oil pressure switch which is situated on the oil cooler housing. It will require a 1/8 BSP Taper T- piece fitting and braided hose to run oil from that location to the turbo.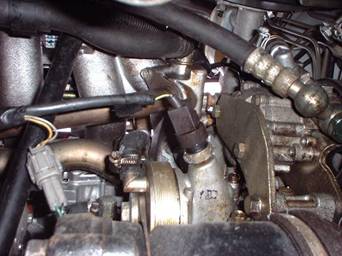 Oil return however, is a bit more tricky. On a SR20DE, there is a blank located on the front side of the block, which would normally have a fitting on the GTiR engines. In order for you to fit the return line, firstly you must drill through the block to insert a fitting. It is advisable to drain the oil, remove both sump trays before any drilling takes place. Also as I've discovered, it is much easier to have the car in the air, and drill the hole from inside the engine, out over, as drilling from in front of the engine is restricted by the radiator.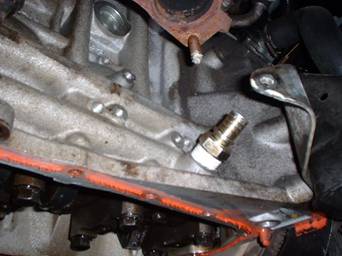 Water feed/return is a bit more simplified. Located on the bulkhead, there are 2 black rubber hoses which pass through into a heater matrix. You can tap into these lines to acquire the feed/return.
One of the hardest parts of the conversion for me, was running around trying to get a down pipe fabricated. Be prepared for constantly running backwards and forwards, to and from garages while you measure, cut and weld pipe together to form the down pipe. If you have access and the skills to a welder, then use it. First thing to do is to locate a down pipe which has a similar shape to your set-up. I discovered that a Saab 9000 Turbo down pipe was a good likeness, however, I did choose this particular model as it had the require flange fitting for the turbo I used. At a cost of +£150 its not to everyone's taste. Another option you could look into is a used GTiR down pipe which can be mated to the original downpipe to fit.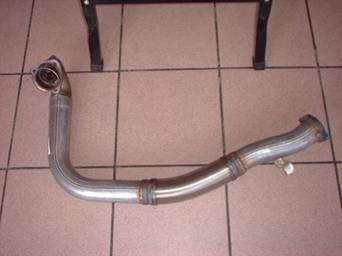 This more or less concludes what you need and what to expect, the rest is like a bolt on puzzle, especially when it come to plumbing in all the pipe work.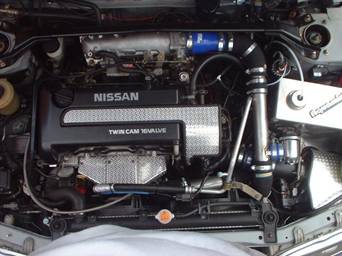 There is still plenty left to learn so below I have provided some essential reading material to help you turn you your normally aspirated Nissan into a Scooby chasing beast!
http://www.brazosport.cc.tx.us/~lshadoff/turbo
A guide to installing a ready made bolt on turbo kit, but the site contains a lot of useful info about certain aspects you will need to know.
http://www.angelfire.com/tx4/kwak/NX_turbo.html
Another very useful site with lots of pics explaining the different stages of the conversion.
Aswell as our own forum, there are a few other US based forums which have a lot of members who have already been there and done it with success, so it pays to search these forums for info before doing the conversion.
http://www.automotiveforums.com/vbulletin/f201
Below are some contacts which may come in useful, remember, sometimes its cheaper to buy second hand parts, so it always pays to ask first.
http://www.powertechimports.com
http://www.jimwolftechnology.com
http://www.forgemotorsport.co.uk
http://www.powerflowexhausts.com
Should you decide to go ahead with a turbo conversion, then I wish you good luck, however I cannot be held responsible for any negative outcome. You do this at your own risk.
Many thanks to Kev Shek for supplying this write up for Club Nissan
(All pictures for reference only, actual part may differ)