Modifying your Primera / SR20DE Engine

The tuning accessories ive mentioned are specifically aimed at the SR20DE Engine, P10 eGT, P11 GT, N15 GTi.
Now that you are a proud owner of your Primera, you feel you could do with a bit more poke under the bonnet, but where do you start? One thing to remember is to spend your money wisely, ask for opinions about tuning products that you've seen, don't just go out and buy the first thing you've seen, as you may end up selling it to buy a better replacement. See what other are using and ask yourself why? Could it be that these products have been tried and tested, and that they give the best possible performance per pound? probably......... read on.........
As a rule of thumb, helping your engine breathe easier will produce more power. First i would suggest replacing your air filter. The best product ive found wasn't from a jap company, but from our US friends. Hotshot is one of the US based companies that are leading the way in tuning the infamous SR20DE. They have what know as the HS CAI, cold air intake system, which replaces the standard airbox and intake pipe. This system relocates the air filter inside the passenger wheel arch, by enlarging an existing hole in the inner wing beside the battery. The intake pipe which is supplied with the kits then completes the system. The idea is that as air flows through the filter, the length of the pipe increase the flow characteristics of the air, thus creating a ram air effect, rushing the air into the engine, improving the performance. Gains of up to 10 BHP can be expected.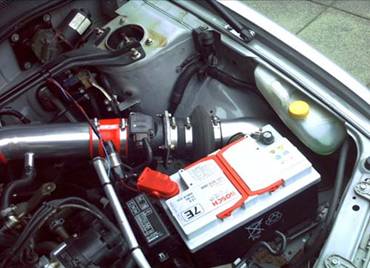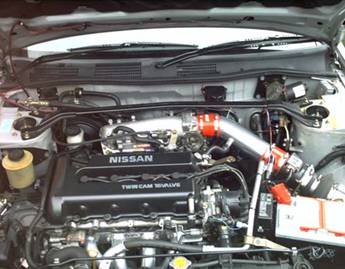 *pictured here with AEM Bypass Valve
Another good product that Hotshot can supply is the Hotshot Header (exhaust manifold) which claims up to 15 BHP increase. This unit not only looks a treat, but helps the exhaust gases escape faster.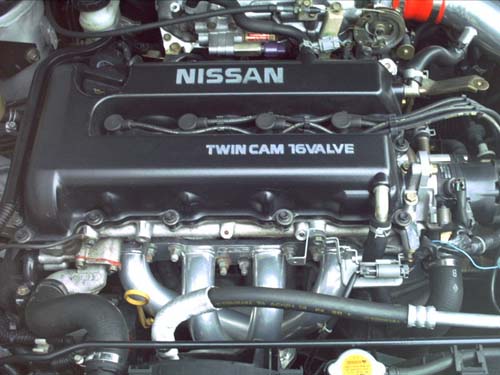 Both above products give the engine a much quicker throttle response, and more aggressive throaty tone, and help the low and mid range torque, giving the Primera a much better start off the line.
Contacts: Manufacturers http://www.hotshot.com
Next step would be to upgrade to a full exhaust system. HKS make a full Drager system which is a very good product. If you have plans to buy this system, then you wont need a Hotshot header. This is a complete system which gives impressive gains but at a price of about £550.00 Not only does it perform well, but maintains a respectable amount of noise pollution. It comes with a shiny round 4" tailpipe.
Alternatively, if you have plans to purchase a HS Header, then consider a Powerflow custom stainless steel system. This gives you endless choice of tail trims and offer excellent performance per pound. You decide how loud your system will be. The recommended diameter of bore to use with this system is no more than 2.25" pipe. You need enough to give good performance but also to maintain back pressure in the system. Systems range from £250 - £350 depending on dealers. You may also choose to use any aftermarket back box, this way creating your own unique style.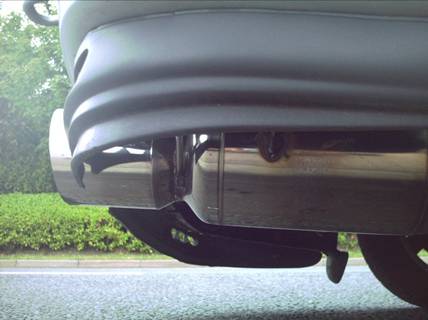 Contacts: HKS http://www.dpmotorsport.com
Powerflow http://www.powerflowexhausts.com
Now is the time for some serious engine tweaking with the aid of some cams. JWT (aka Jim Wolf Technology) is a highly rated US tuners that can supply good quality camshafts for the SR20DE. They produce various grinds of cams but the ones that are most suited for the streets are the S3 cams. These cams will give increase between 10-15 BHP and have a 262 degree profile and 9/11mm lift. These cams really come into effect above 4,000 RPM when the engine pulls the strongest.
Fitting is relatively straight forward, the JWT cams come with comprehensive instruction and tips to help you do this. Anyone who is competent with a good tool set can carry out the cam swap in approx 2 hours.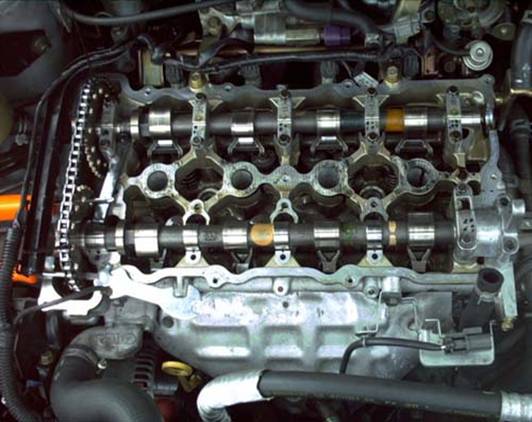 When ordering JWT Cams please be sure to state whether your SR20DE is a Roller (P11 <97 N15<97) or Non Roller (Pre 97)
Contacts: Ben Pila at JWT http://www.jimwolftechnology.com
Jamie at Powertech Imports http://www.powertechimports.com
To help tune everything to peak performance, i suggest an ECU upgrade. At the moment, there is very little in the way of ECU upgrades for the SR20. Superchip offer a Race Icon, but apart from altering the timing, it has very little effect on the engines performance. The only ECU upgrade i recommend is the Dastek Unichip. This unit is a professionally installed piggyback ECU which uses the engine stock sensors, reading them and altering them to change the way your stock ECU performs, thus generating more output. This unit can be fitted during any stage of tuning and remapped after every upgrade to allow peak performance. Not only that, but it has the potential to do more in the future like NOS control, Traction control, as well as Turbo charging. It alters timing and fuel curve to suit the new demands of your engines mods. Prices are from around £370.00 depending on dealers, this includes initial mapping after installation. Extra mapping thereafter is charged per hour, ask your local dealers for pricing.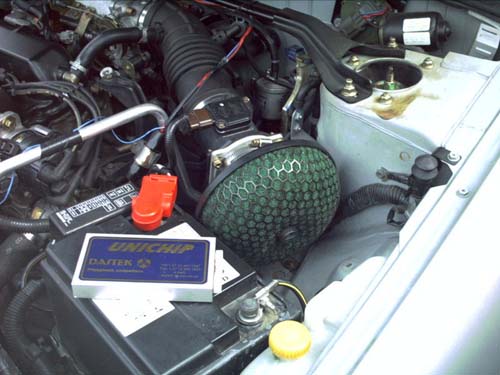 There is another more lengthy option and that is to have your stock ECU remapped by JWT. For this, you will need to remove your ECU and send it to the states. Downtime is between 1-2 months. With the aid of installing a Daughter Board & ROM Chip, they can remap your ECU for NA Tuning, Nitrous Control, VVL Control and also to run bigger Injectors and MAFs for Turbo Applications. Price are from $595 USD Its also sometimes to go to one of their distributors to have it done such as Powertech Imports as you may find better pricing.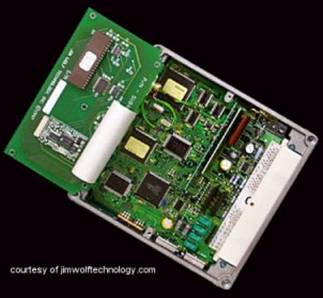 Stay away from little things like FSE boost valves, Ecotek valves, Ebay Mod Chips as they don't benefit our engine or boost power like they claim, dont be fooled by all the hype. Spend you money wisely and you wont end up buying and selling every so often.
Contacts: Dastek Unichip http://www.dastek.co.za
Superchips http://www.superchips.co.uk
JWT http://www.jimwolftechnology.com
Now that you have gained more power, you must consider the handling, after all, Power is nothing without Control. The most common and acceptable upgrades are lowering springs. There are a few spring kits available for Primeras, such as Eibach and H&R. Both of these kits will drop the car by 30-40mm and offer a firmer ride, which can be harsh at times, but greatly increased stability when braking and cornering, so a little bumpier is a small price to pay for endless hours of fun on the road. Prices start from £120.00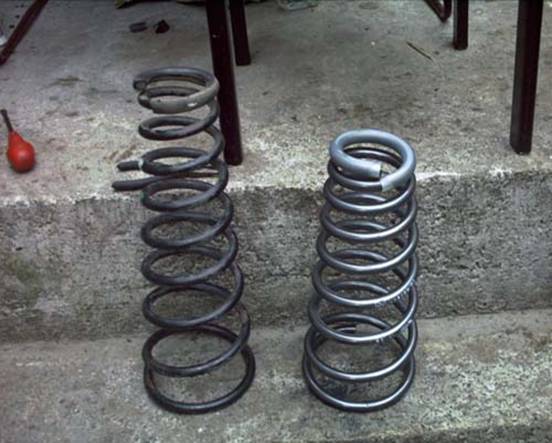 *Stock spring compared to an Eibach spring
Next option is Koni adjustable or non adjustable shocks and springs kit. This kit offers around 40mm drop but greatly improves the cars performance. As for being adjustable, each unit can only be adjusted once removed from the car, so bear in mind that setup may take a few attempts. I've heard nothing but good comment about this kit from people who have used them. Prices are from around £500.00
Above all, the ultimate setup for cars has to be coilovers. There are a few companies that make coilovers for our cars, but always check applications for your vehicle. The best bang for buck has to be my newly discover B&G coilover suspension setup. Prices for this kit are about £690.00+VAT and is available within the UK . These kits as most come with 4 complete coilover units which offer varied range of height adjustability.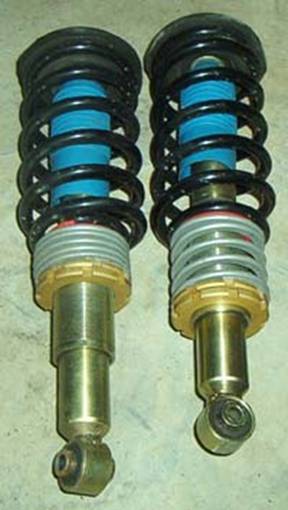 *B&G Coilovers
Then we have the likes of JIC and Tein but be expected to part with over £1200.00 These kits offer slightly more in the way of adjustable top mounts where any corrections in camber can be made.
Contacts: Eibach http://www.eibach.com
B&G http://www.bg-suspension.com
Tein http://www.tein.com http://www.teinusa.com
Lastly, not forgetting your brakes. There are many companies that offer up rated pads for your car, many of which are good, however, real stopping power comes from up rating your discs too.
Tarox offer a 40 grooved disc at a price of around £240.00 (pair) but the best setup recommended by most users are Rotordiscs. These discs not only look cool, but offer greatly increased stopping power with very effective cooling properties. Rotordiscs come complete with Nippart pads for £235.00 (complete set) which make them very competitively priced, and this is what i used to use.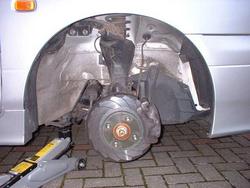 By far the best setup would be a complete braking systems upgrade. Again, a couple of options here, one being R32 Skyline (same as 300ZX) front calipers and discs. This setup isn't too difficult to do, but does require some special parts. The caliper will bolt straight onto the primera hub, however, the dust guard will have to be removed completely. Brake hoses/ends will need to be fabricated in order for them to connect to the primera brake lines, this can be done at most brake pipe companies. The R32 disc will need machining. ¼ of an inch need to be removed from the RADIUS of the discs so they will fit back under the caliper. A 4 hole stud pattern has to be drilled into the R32 discs as they are originally 5 stud. This is quite easily done and is perfectly safe. By lining up one of the stud holes on your old primera discs hub to hub with the R32 disc, you can you now have an exact template in which to drill the other 3 hole require for primera fitment. Drilling can be simply done freehand with the aid of a good quality drill and HSS bit. The kit is now simply bolt on fitment.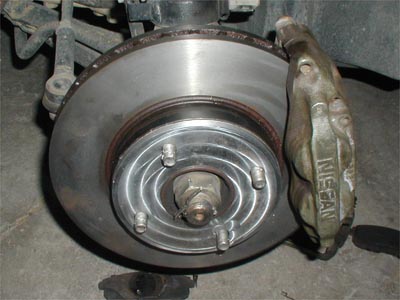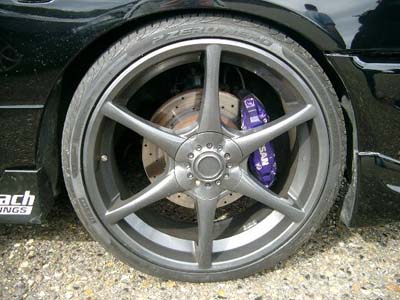 The second option is to go all out new and improved aftermarket upgrade kits. Below is a good example of such an upgrade. HiSpec are one of the few companies which will tailor make a kit to suit your car, luckily, the kit for the primera is now readily available thanks to our resident Andy B for his contribution to the initial setup and design of this kit. This particular kit consists of a 4 pot billet caliper with a 330mm disc. This offers superior stopping power. There are other kits available on their website.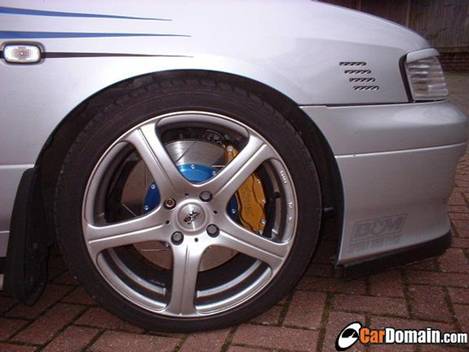 *HiSpec Monster 4 Pot featured here Retails for approx £900+vat
Contacts: EBC Brakes http://www.ebcbrakes.com
Tarox http://www.tarox.co.uk
Rotordiscs http://www.rotordiscs.com
HiSpec http://www.hispecmotorsport.co.uk
Many thanks to Kev Shek for supplying this write up and pictures for Club Nissan